Chevrolet SERVICE CENTER near Detroit
Welcome to Fox Chevrolet Service Center
At Fox Chevrolet, the Certified Service experts know precisely which parts your Chevrolet car, truck, or SUV needs -rely on them to maintain your Chevrolet with the same parts used to build it. Hearing a rattle? Had a fender bender? Head down the service lane for any type of auto repair service, major or minor. Our Chevrolet Certified Service experts are trained to know every inch of your vehicle and can help you keep it running like new. Simply schedule an appointment today.
Service Offers And Pricing
We offer competitive prices on popular vehicle services like oil changes, brakes and tires.
Maintenance
Need New Tires?
Your vehicle's tires are the first and only contact with the road, so it is important to choose the right set when replacing them. Fox Chevrolet has Certified Service experts that will handle all of your tire needs. From checking tire wear to tire pressure, our team can also help you find new tires for your vehicle.
Need an Oil Change Near Rochester Hills
Driving around with dirty oil - or not enough oil - can shorten the life of your engine. Our Certified Service experts can change your oil quickly. Schedule an appointment today.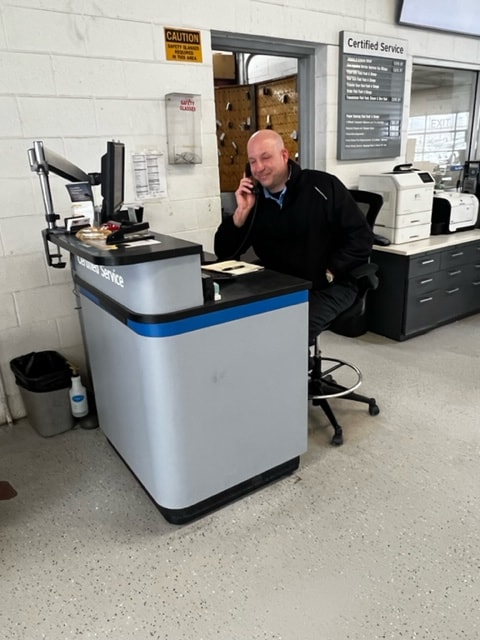 MULTI-POINT VEHICLE INSPECTION
With your Multi-Point Vehicle Inspection, you get a thorough assessment of your vehicle by the Certified Service experts. So protect yourself and your automotive investment with a comprehensive vehicle inspection at your Fox Chevrolet today.
Download the GM Multi-Point Vehicle Inspection Sheet
The Multi-Point Vehicle Inspection form uses a simple color-coded key to assess maintenance terms:
Red indicates items that need immediate attention.
Yellow indicates items that should be addressed in the near future.
Green indicates no items to address.
Hearing Brake Noise?
Stopping power is crucial to a safe and successful driving experience. When you need brake service, visit Fox Chevrolet and the Chevrolet Certified Service experts can recommend quality new brakes.
Battery Trouble?
Your vehicle's battery provides energy to start the engine, plus it supplies power to accessories when the engine is not running. The cold of winter and the heat of summer can affect your auto battery. See us for your vehicle's battery needs.
GET IN TOUCH
Contact Our Service Department
Service

:

(248) 651-7000
Monday

Closed

Tuesday

7:00 am - 6:00 pm

Wednesday

7:00 am - 6:00 pm

Thursday

7:00 am - 7:00 pm

Friday

7:00 am - 6:00 pm

Saturday

Closed

Sunday

Closed
See All Department Hours
Dealership Hours
Monday

Closed

Tuesday

8:30 am - 6:00 pm

Wednesday

8:30 am - 6:00 pm

Thursday

8:30 am - 7:00 pm

Friday

8:30 am - 6:00 pm

Saturday

Closed

Sunday

Closed
Service Dept. Hours
Monday

Closed

Tuesday

7:00 am - 6:00 pm

Wednesday

7:00 am - 6:00 pm

Thursday

7:00 am - 7:00 pm

Friday

7:00 am - 6:00 pm

Saturday

Closed

Sunday

Closed
Parts Dept. Hours
Monday

Closed

Tuesday

7:00 am - 6:00 pm

Wednesday

7:00 am - 6:00 pm

Thursday

7:00 am - 7:00 pm

Friday

7:00 am - 6:00 pm

Saturday

Closed

Sunday

Closed
Chevrolet Service Center in Rochester Hills
Whether you're living the Silverado life, cruising down the interstate in your Cruze, redlining your Corvette, or helping to save the environment behind the wheel of your Bolt, you'll benefit from regular service that focuses on key engine and vehicle systems.
Short Term Regular Service
There are some relatively inexpensive services that can pay off when you perform them regularly. These services can extend the lifespan of the systems in question no matter which model of Chevrolet you drive. Foremost among these is engine maintenance like oil changes. Clean oil protects engine parts by removing contaminants that would damage them while lubricating them and reducing friction. This is beneficial for any vehicle, especially for your Tahoe or Silverado, if you're towing heavy loads. If you're consistently driving them at higher speeds, it will also improve your Corvette or Camero's engine performance.
If you're driving the all-electric Bolt, your engine doesn't require motor oil, but regular battery service is required to ensure it's charging correctly. If your battery is getting older in your Malibu or Trax, you'll also want an engine inspection that includes battery monitoring. Extreme heat is just as bad as extreme cold when it comes to battery strength, meaning your battery can fail on a hot summer day just as readily as it does on a cold winter morning. A battery strength test can let you know if it's time for a new one before you get stranded.
Engine inspections and service can also catch potential future problems caused by fraying wires, failing gaskets, splitting hoses, or weakened belts. Your technician can top up low fluids, check lightbulbs and filters, and scan for suspicious leaks or other signs of trouble before your next commute from Sterling Heights to Warren.
If you're planning on blazing new trails in your Trailblazer, you may want a dedicated set of tires that gives you added traction for mud or snow. Regular rotation service allows you to get your money's worth from each set of tires by eliminating the potential for uneven wear patterns to develop as you travel around Troy. This will save you from buying a new set of tires earlier than you need to, whether you're driving your Equinox to work each day or using it for towing a boat.
Long Term Regular Service
Your Chevy is built to stay in it for the long haul, so if you're planning on keeping your vehicle for many years, you'll encounter certain maintenance issues that only require addressing once or twice over the lifetime of your vehicle. These include services like changing your serpentine and timing belts, servicing your differentials, flushing your coolant system, changing spark plugs, and replacing the transmission fluid. Your technician can help remind you when these important milestones are approaching.
Seasonal Service
It's the little things that can sometimes matter the most, and a new set of windshield wiper blades that sweep away heavy precipitation in winter become a key component assuring your safety on the road. Seasonal service can also mean switching summer tires for all-season or winter treads, topping up fluids, and preparing systems for extremes of heat or cold.
How Bill Fox Chevrolet Can Help
At Bill Fox Chevrolet in Rochester Hills, we know Chevys inside and out. This expertise gives us an edge whether we're conducting some routine maintenance or diagnosing an unexpected issue. Our technicians have the training and experience to quickly ascertain the source of trouble and apply the correct remedy. We also use Chevrolet-made parts, so any repairs you have done also restore your vehicle to its original state rather than replace a part with one of lesser quality. Whether you're in Southfield or Shelby Township, you can also schedule your visits right online for added convenience.