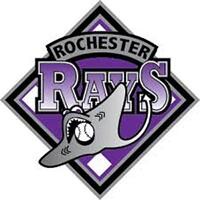 FOX CHEVROLET GOES TO BAT FOR ROCHESTER RAYS 8U
Fox Chevrolet to provide Rochester Rays 8U with new equipment, monetary contribution and instructional clinics
Rochester Hills, April, 2018 - Fox Chevrolet is partnering with the Rochester Rays 8U in Rochester Hills. Fox Chevrolet has joined forces with the national Chevrolet Youth Baseball program to provide new equipment, invitations to FREE instructional clinics, and an opportunity for community members to earn donations for their league via a Test Drive fundraiser.
"Playing the game of baseball helps kids develop skills like leadership, cooperation and sportsmanship while bringing families and communities together to show their support. Fox Chevrolet and Chevrolet Youth Baseball are proud to participate in a sport that brings so many smiles to kids and families in Rochester Hills." said Mark Kowalski, General Manager for Fox Chevrolet. "Chevrolet believes that in play, there are possibilities and supports the spirit of teamwork that baseball instills in its players."
2018 marks Chevrolet's Youth Baseball program's 13th year, and since its introduction has helped aid local teams, benefiting more than 12.4 million young people in communities where Chevrolet's customers live, work and play. In 2017, more than 1,500 Chevrolet dealers participated across the country.
Fox Chevrolet will present an equipment kit that includes useful items such as batpacks, scorebooks, industrial-strength batting tees, ball buckets and T-shirts. The sponsorship also includes youth clinics featuring current and former MLB/MiLB players and coaches, or instructors from Ripken Baseball.
In addition, Fox Chevrolet will present a check representing a one-time monetary contribution to Rochester Rays 8U. Sponsored leagues across the country will have the chance to earn additional funds as community members take test drives at their partnering dealership to help support the league.
In addition to its commitment to youth baseball, Chevrolet also is the Official Vehicle of Major League Baseball™.
"Chevrolet vehicles are designed and built for families, safety and fun, so we encourage young people and their parents to make a Chevrolet the official vehicle of their household," said Kowalski.
About Fox Chevrolet
The Fox family of dealerships in Rochester Hills started in 1967 when Fox bought what was then Crissman Chevrolet. In 1968, the dealership added a new body shop and expanded the used vehicle operation. Significant change came again in 1983, when Fox was awarded a Jeep-Eagle franchise. By 1984, a new facility was completed for Chevrolet and Jeep-Eagle settled in at the existing location. In 1991, a new collision center and used vehicle showroom was completed. By 1993, son Mike began his own endeavor when he opened a new Toyota dealership in what was the Jeep-Eagle facility. Mike continued to grow his own operation in 1998 when he built a new Volkswagen dealership adjacent to the Toyota building. John Fox, Mike's younger brother, became the dealer operator of the Chevrolet store in 1997. John assumed the responsibilities of running Mike's stores in 2004, and has continued in the family tradition, with a new generation of Fox's in the wings.
Fox's dedication to customer satisfaction is apparent in the continuous recognition received over the years. The Jack Smith Dealer of the Year Award from Chevrolet, the President's Award from Toyota, and the Wolfsburg Crest Award from Volkswagen to name just a few. Our Fox promise, which you can refer to in this brochure, is the foundation of our commitment to you.
About Chevrolet
Founded in 1911 in Detroit, Chevrolet is now one of the world's largest car brands, doing business in more than 115 countries and selling more than 4.0 million cars and trucks a year. Chevrolet provides customers with fuel-efficient vehicles that feature engaging performance, design that makes the heart beat, passive and active safety features and easy-to-use technology, all at a value. More information on Chevrolet models can be found at
www.chevrolet.com
.